June 7, 2021
Posted by:

Joyce Dialola

Categories:

REC In the News, Uncategorized
Real Estate Connection Launches REC Home Center
24/7 Agent Access and Direct to Consumer Lead Generation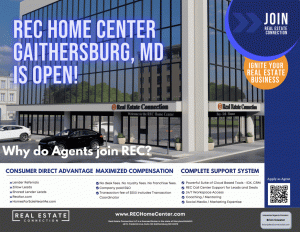 Gaithersburg, MD – Real Estate Connection (REC) has opened the REC Home Center in Gaithersburg, MD. Located on the corner of Route 355 and Lakeforest Blvd, this retail location will serve as the hub for REC buyers, agents, title companies, and lenders. REC Agents will have 24/7 access to this secure facility as well as a host of other amenities offered by the REC Home Center. All REC Home Centers are supported by the REC Direct Consumer Lead Generation and Transaction Management platform.
"We are excited to be a part of the real estate community in the DMV help buyers and agents excel in an evolving real estate environment. The Maryland REC Home Centers offers agents, lenders, and buyers a central hub to conduct business and work together," said Dan Love REC's President and Broker.
Attention Agents: REC is looking for Real Estate Agents in the Maryland, DC, and Virginia market areas looking to grow their business, the REC Home Center offers 7-Day week customer support, Secure 24/7 work location, Live Buyer Lead Transfers, National Lender relationships, and local industry events. Interested Agents, please inquire: Agents@RECHomeCenter.com
About REC: 
Real Estate Connection (REC) helps lenders/brokers and Real Estate Agents achieve a better real estate experience. REC specializes in lead generation, lead management, increasing transaction conversions, transaction management as well a host of other exciting reporting and business intelligence capabilities.
If you are looking to grow your lead capabilities, convert more transactions and inject a better real estate experience for your customers we need to talk. www.realconnectusa.com